Reprinted from LymeDisease.org with the kind permission of Dorothy Kupcha Leland. To read the original article, click here.
I've long been exasperated by a particular sentence in the Lyme disease section of the CDC's website: "This disease does not occur nationwide."
In a
recent blog
on the topic, I noted: "Even using the CDC's own highly restrictive Lyme surveillance criteria, there are cases on the east coast, cases on the west coast, and cases in the middle. So, what about that scenario is NOT 'nationwide'?"
This is much more than a question of semantics. The CDC position is often used to deny patients a diagnosis. ("Well, the CDC says Lyme is not found nationwide–actually only in 14 states–so you couldn't possibly have Lyme disease….")
People outside those magic 14 states can have a devil of a time getting diagnosed and treated. They lose the opportunity for early treatment—which offers the best outcome—and may have trouble EVER getting what they need from their doctors.
Well, apparently "this disease does not occur nationwide" also rankled Lyme activist Bruce Fries of Maryland. And he did something about it. He filed a complaint via a formal administrative process with the CDC's Office of the Associate Director for Science (OADS), Office of Science Quality.
Here's the complaint he filed:
_____
INFORMATION QUALITY REQUEST FOR CORRECTION
Complainant
Bruce Fries, Patient Centered Care Advocacy Group
Pursuant to the HHS Guidelines for Ensuring and Maximizing the Quality, Objectivity, Utility, and Integrity of Information Disseminated to the Public, the Patient Centered Care Advocacy Group, a patient advocacy organization with members and supporters throughout the United States, makes the following request for correction of inaccurate information.
Information to be Corrected
The CDC website page for Lyme Disease Data and Statistics contains the following statement in the Fast Facts section:
"Lyme disease is the most commonly reported vector-borne illness in the United States. In 2015, it was the sixth most common Nationally Notifiable disease. However this disease does not occur nationwide and is concentrated heavily in the northeast and upper Midwest."
The statement "this disease does not occur nationwide" is inaccurate.
According to CDC surveillance reports, Lyme disease has been reported in every U.S. state except Hawaii, and the black-legged tick that transmits Lyme disease has been found in 45 percent of U.S. counties.

Impact
In addition to being a violation of HHS guidelines for information quality, the statement that Lyme disease does not occur nationwide has potential to harm patients in states with low incidence rates who are misdiagnosed and denied treatment when doctors rule out Lyme disease because of inaccurate information from CDC that Lyme disease does not occur nationwide.
Recommended Action
To correct the inaccuracy delete the following sentence:
"However this disease does not occur nationwide and is concentrated heavily in the northeast and upper Midwest."
_____
Lo and behold, Bruce actually got a response, and the offending sentence has been removed from the CDC website!
Dr. Lyle Petersen is director of the Division of Vector-Borne Diseases in the CDC's National Center for Emerging and Zoonotic Infectious Diseases. He sent Bruce a letter, which said in part:
"We agree that the term 'occur' is subject to misinterpretation and that the sentence can be clarified."
Really? What else might "occur" mean, other than…occur? I'd personally leave the word "occur" right where it is and change the words around it like this: "Although Lyme disease is concentrated heavily in the northeast and upper Midwest, it can occur nationwide."
But the CDC chose its words differently. Here's what the website says now: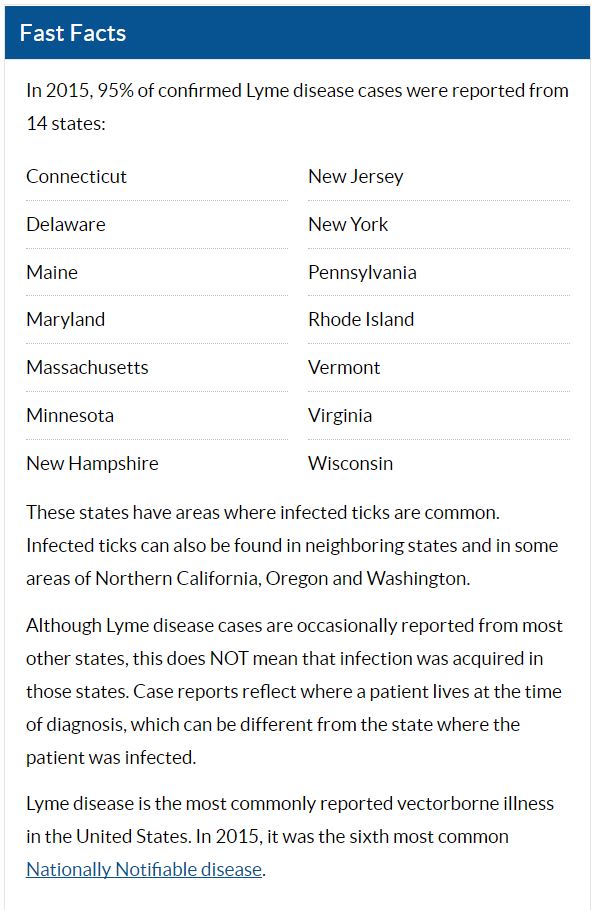 The website's amended text is marginally better, since it now allows the possibility of a few more states. But the information is still inaccurate. Take this sentence:
"Infected ticks can also be found …in some areas of Northern California, Oregon and Washington."
Why just Northern California? According to the California Department of Public Health, infected ticks have also been found in central and southern parts of the state. So, why not just say "California"?
And what's with this next sentence?
"Although Lyme disease cases are occasionally reported from most other states, this does NOT mean that infection was acquired in those states."
Why is the CDC hell-bent on minimizing this disease? As Lorraine Johnson pointed out in a recent Lyme Policy Wonk blog, other sources of information indicate much more exposure to infected ticks than the CDC is willing to admit.
Why? Why? Why?
Despite the imperfections of the new language on the website, Bruce Fries deserves kudos for using the administrative process to force the CDC to make some changes.
And the CDC deserves whatever the opposite of "kudos" is, for the unsatisfactory way they "fixed" this problem.
Stay tuned. This won't be the end of the story.
Join LymeDisease.org
---
TOUCHED BY LYME is written by Dorothy Kupcha Leland, LymeDisease.org's VP for Education and Outreach. She is co-author of
When Your Child Has Lyme Disease: A Parent's Survival Guide.
Contact her at dleland@lymedisease.org