Do Acai Berries Live Up to the Hype?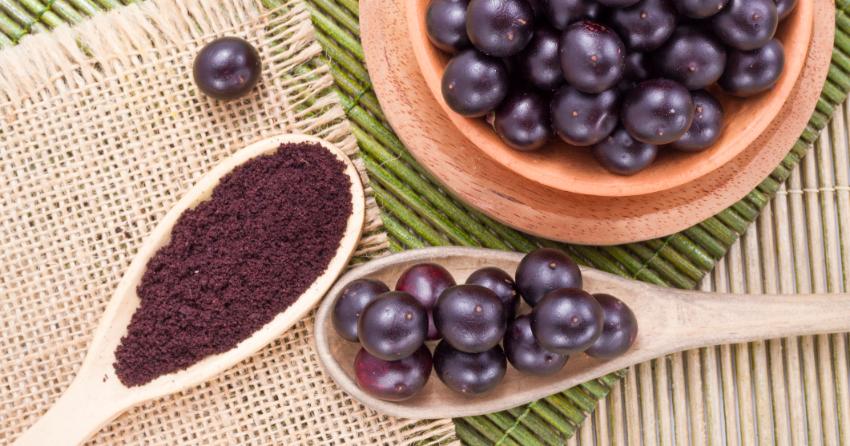 Native to Central and South America, acai berries have been touted as a "superfruit" in recent years. While the berry has plenty of health benefits, you may be wondering, do acai berries live up to the hype? This article will describe the nutritional basics of the acai berry, the health benefits for which it's been studied, and any potential downsides.
What are Acai Berries? 
Acai (pronounced ah-sigh-EE) is a small, dark purple berry found primarily in the Amazon rainforest; historically, it was a primary food source in many areas of South America. Acai made its way from Brazil to the United States in the early 2000s and has since become a popular staple at smoothie bars and beachside cafes.
Although acai berries can be consumed raw, it's unlikely to find them fresh as they are extremely perishable. More often, acai is found as a frozen puree, powder, or juice. Commonly, the frozen berry is pureed into an acai bowl, which also originated in Brazil. 
According to the USDA, notable nutrients in the acai berry include fiber, vitamin C, and manganese, with smaller amounts of iron, calcium, and potassium. Acai will differ nutritionally product by product; for example, acai juice will not contain fiber. 
Naturally, acai contains very little sugar (zero to two grams per serving is expected); therefore, acai products containing added sugar will likely not provide the same health benefits. 
What Are the Health Benefits of Acai Berries?
1. Antioxidants
In addition to vitamins and minerals, the acai berry is very high in antioxidants. The most prevalent group is the anthocyanins, which are also found in other purple or blue foods. Other antioxidants in acai berries include catechins, epicatechins, and oligomeric procyanidins.
Antioxidants fight oxidative stress, which occurs when compounds like free radicals and reactive oxygen species accumulate and cause cellular and DNA damage in the body. 
In a 2016 study published in Nutrition, healthy women who consumed 200 grams of acai pulp for four weeks had significant improvements in total antioxidant levels, as well as reduced production of reactive oxygen species.
2. Metabolic Syndrome Markers
Metabolic syndrome is a cluster of conditions — high blood pressure, excess abdominal fat, high blood sugar, and abnormal cholesterol levels — that increase the risk of cardiovascular disease and type 2 diabetes. Acai berry has been studied for its effects on reducing several of these markers.
In a 2011 study published in the Journal of Nutrition, overweight adults who consumed 200 grams of acai per day for 30 days had significant reductions in fasting glucose, insulin, and total cholesterol, compared to their baseline levels. However, the individuals did not see improvements in HDL cholesterol, reductions in blood pressure, or significant weight loss. 
3. Skin Health 
The antioxidants in acai berries are thought to benefit skin health by accelerating wound healing and improving signs of skin aging.
In an in vitro model, cultured cells with acai extract had increased fibronectin levels, a protein that promotes wound healing by influencing collagen synthesis. The cells were also modeled to imitate inflammatory wounds. The cells treated with acai experienced quicker healing times. 
Two of the antioxidants that are prevalent in acai berries are malvidin and cyanidin. In a model of fibroblasts (connective tissue cells that produce collagen) that were damaged from UV-A exposure, the cells that were incubated with acai extract had significantly less oxidative damage and depletion of glutathione. 
Although these studies point towards acai improving skin health, more research is needed in humans to verify the results. 
4. Brain Health
Some studies have shown that acai berries have a neuroprotective effect on the brain. In a study with aging rats, those who supplemented with acai pulp had improved memory scores during water maze tests compared to the control diet, as well as reductions in tumor necrosis factor-alpha, an inflammatory compound.
Acai berries have also been examined for their impact on some mental health issues. A study published in October 2016 in Oxidative Medicine and Cellular Longevity looked at a model of neuronal cells that were treated with a compound that induces mitochondrial dysfunction, which is thought to be associated with at least one mental health issue. Cells were then cultured with acai extract, and remarkably, they demonstrated a reversion of the mitochondrial dysfunction and a reduction in oxidative stress markers. This suggests that acai may play a future role when it comes to managing some mental health issues.  
5. Lifespan 
Two studies have linked acai to increased longevity in research using fruit flies. Both studies were published in Experimental Gerontology — the first in 2010 and the second in 2012. 
In the 2010 study, fruit flies were exposed to oxidative stress and fed a high-fat diet. After supplementation with acai extract, female flies experienced a prolonged mean lifespan by 22%. Male flies, however, did not see a similar increase in longevity. 
The 2012 study also used fruit flies that were oxidatively stressed and had genetic mutations for shorter lifespans. The researchers found that fruit flies fed a simple sugar-based diet combined with acai extract tripled their lifespans, from eight days to 24 days. 
Though these results are encouraging, it should be noted that the potential benefits of acai on increasing longevity are solely limited to fruit fly models at this time.
What Are The Downsides to Acai? 
There are no major adverse effects of consuming acai berries, but there are a few potential downsides to be aware of.  
First, although acai bowls are the most common way to eat the berry, this method often adds dozens of additional grams of sugar. To maintain the health benefits of an acai bowl, use lower-sugar ingredients, such as unsweetened almond milk, berries, avocado, or nut butter. 
Secondly, although acai is considered a superfood, that should be taken with a grain of salt, as there is no regulated definition of that term. Although acai berries are packed with antioxidants, similar antioxidants are found in other foods, like blueberries.   
Additionally, their effects on human health are still being researched — especially with its claims to increase lifespan. While acai berries are definitely a healthy food, they should not be considered a miracle fruit. 
Key Takeaways:
Although acai berries are a very healthy fruit, with low amounts of sugar and high antioxidant levels, they are not a panacea for all health concerns. 

Acai has been well-studied for its effects on boosting antioxidant levels and improving markers of metabolic syndrome, including high blood sugar and cholesterol. 

Animal and cellular studies have shown acai's purported effects on skin health, cognition, and lifespan. However, research with humans in these areas is still needed.  
 References:
Alessandra-Perini J, Rodrigues-Baptista KC, Machado DE, Nasciutti LE, Perini JA. Anticancer potential, molecular mechanisms and toxicity of Euterpe oleracea extract (açaí): A systematic review. PLoS One. 2018;13(7):e0200101. Published 2018 Jul 2. doi:10.1371/journal.pone.0200101
Barbosa PO, Pala D, Silva CT, et al. Açai (Euterpe oleracea Mart.) pulp dietary intake improves cellular antioxidant enzymes and biomarkers of serum in healthy women. Nutrition. 2016;32(6):674‐680. doi:10.1016/j.nut.2015.12.030
Carey AN, Miller MG, Fisher DR, et al. Dietary supplementation with the polyphenol-rich açaí pulps (Euterpe oleracea Mart. and Euterpe precatoria Mart.) improves cognition in aged rats and attenuates inflammatory signaling in BV-2 microglial cells. Nutr Neurosci. 2017;20(4):238‐245. doi:10.1080/1028415X.2015.1115213
de Bem GF, Costa CA, Santos IB, et al. Antidiabetic effect of Euterpe oleracea Mart. (açaí) extract and exercise training on high-fat diet and streptozotocin-induced diabetic rats: A positive interaction. PLoS One. 2018;13(6):e0199207. Published 2018 Jun 19. doi:10.1371/journal.pone.0199207
de Oliveira PR, da Costa CA, de Bem GF, et al. Euterpe oleracea Mart.-Derived Polyphenols Protect Mice from Diet-Induced Obesity and Fatty Liver by Regulating Hepatic Lipogenesis and Cholesterol Excretion. PLoS One. 2015;10(12):e0143721. Published 2015 Dec 2. doi:10.1371/journal.pone.0143721
Kang MH, Choi S, Kim BH. Skin Wound Healing Effects and Action Mechanism of Acai Berry Water Extracts. Toxicol Res. 2017;33(2):149‐156. doi:10.5487/TR.2017.33.2.149
Machado AK, Andreazza AC, da Silva TM, et al. Neuroprotective Effects of Açaí (Euterpe oleracea Mart.) against Rotenone In Vitro Exposure. Oxid Med Cell Longev. 2016;2016:8940850. doi:10.1155/2016/8940850
Native Acai, Pure Acai Berry Puree. U.S. Department of Agriculture website. https://fdc.nal.usda.gov/fdc-app.html#/food-details/452840/nutrients
Petruk G, Illiano A, Del Giudice R, et al. Malvidin and cyanidin derivatives from açai fruit (Euterpe oleracea Mart.) counteract UV-A-induced oxidative stress in immortalized fibroblasts. J Photochem Photobiol B. 2017;172:42‐51. doi:10.1016/j.jphotobiol.2017.05.013
Sun X, Seeberger J, Alberico T, et al. Açai palm fruit (Euterpe oleracea Mart.) pulp improves survival of flies on a high fat diet. Exp Gerontol. 2010;45(3):243‐251. doi:10.1016/j.exger.2010.01.008
Udani JK, Singh BB, Singh VJ, Barrett ML. Effects of Açai (Euterpe oleracea Mart.) berry preparation on metabolic parameters in a healthy overweight population: a pilot study. Nutr J. 2011;10:45. Published 2011 May 12. doi:10.1186/1475-2891-10-45
Vrailas-Mortimer A, Gomez R, Dowse H, Sanyal S. A survey of the protective effects of some commercially available antioxidant supplements in genetically and chemically induced models of oxidative stress in Drosophila melanogaster. Exp Gerontol. 2012;47(9):712‐722. doi:10.1016/j.exger.2012.06.016