Glucosamine and Lifespan: Can This Inflammation-Fighting Joint Health Supplement Reduce Mortality Risk?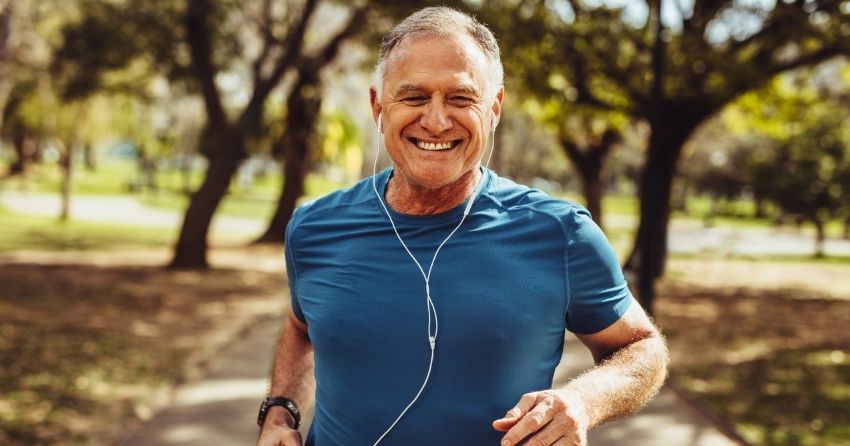 In the past few years, glucosamine has become one of the most widely used over-the-counter supplements, with approximately 20% of the population taking it. Glucosamine's initial claim to fame came about after research showed that it could be useful for easing joint pain. Its anti-inflammatory properties soon made it in high demand amongst those seeking to relieve pain from osteoarthritis and other inflammatory conditions.
However, a growing amount of research has uncovered evidence suggesting that glucosamine may play a beneficial role in preventing chronic diseases and their resulting mortality rates.
The fact that glucosamine supplementation has become so widespread has allowed researchers to follow large groups of glucosamine users over several years and observe changes to their health. The resulting data, published in the Annals of the Rheumatic Diseases in June 2020, sheds some light on other effects glucosamine may have on the body. 
What Exactly is Glucosamine?
Glucosamine was discovered in the 1960s by Italian pharmacologist Luigi Rovati, who described it as a  polysaccharide, a type of compound molecule consisting of a chain-like arrangement of sugars. It is naturally produced in the body and is involved in the production and upkeep of cartilage. 
Over time, the amount of glucosamine in the body decreases, leading to an overall breakdown of cartilage integrity. Since cartilage is a significant component of most joints, this leaves joints vulnerable to the compounding effects of wear-and-tear caused by movement and daily activities. 
Eventually, cartilage erodes enough to affect the underlying bone, further compromising the integrity of joints. In addition to damaging joints, cartilage erosion causes a state of chronic inflammation, leading to osteoarthritis and a painful vicious cycle of inflammatory tissue damage.
Further research determined glucosamine's critical role in the maintenance of healthy joints. Soon, glucosamine was marketed as a supplement for joint health. Although millions of people experience glucosamine's protective benefits, scientists do not clearly understand the underlying mechanism. Another factor adding to the uncertainty is that glucosamine supplementation seems to produce a wide range of results. For example, one large study of people with osteoarthritis published in the New England Journal of Medicine found no effect at all from supplemental glucosamine.
Due to these mixed results, the effectiveness of supplementing with glucosamine for osteoarthritis is considered somewhat controversial among scientists.
Recent Research: Glucosamine and Mortality Risk
A June 2020 study published in Annals of Rheumatic Diseases studied the effects of glucosamine supplementation in adults from the UK. Researchers followed close to half a million individuals over eight years and monitored several different health outcomes throughout the study's length.
The authors noted that glucosamine users experienced significantly lower mortality rates related to cardiovascular disease, respiratory disease, digestive diseases, and cancer compared to participants who didn't supplement.
Most importantly, the total mortality rates were 15% lower for the group that consistently used glucosamine.

Remarkably, the effects of glucosamine supplementation seemed to hold strong even among participants who were chronic smokers. Although these results were surprising, they reflect some of the results observed in previous studies on animals and humans. 
In one such study, researchers examined glucosamine's effects on longevity in animals, and their results were so promising that they recommended exploring this effect in further clinical trials. 
The effects of glucosamine supplementation have also been studied in the lab. In a study published in The American Journal of Epidemiology, researchers observed that glucosamine use was associated with lower C-reactive protein levels, a crucial marker of inflammation.
In addition to the observed effects on inflammation, it is believed that glucosamine supplementation produces an effect similar to low-carbohydrate diets. Studies have shown that this type of diet promotes beneficial health outcomes and may reduce mortality risk. 
Key Takeaway:
Sixty years have passed since Dr. Rovati discovered this natural polysaccharide. It has risen from obscurity to become one of the most popular joint health supplements in use today.
Several studies show that chronic glucosamine use is linked to improved health outcomes. This most recent study exhibits the beneficial effects of glucosamine on all-cause mortality and mortality rates for cancer, cardiovascular, respiratory, and digestive diseases. However, more research will be necessary to understand the exact mechanisms by which glucosamine exerts its protective effects. 
References:
Bell GA, Kantor ED, Lampe JW, Shen DD, White E. Use of glucosamine and chondroitin in relation to mortality. Eur J Epidemiol. 2012;27(8):593-603. doi:10.1007/s10654-012-9714-6
Clegg DO, Reda DJ, Harris CL, et al. Glucosamine, chondroitin sulfate, and the two in combination for painful knee osteoarthritis. N Engl J Med. 2006;354(8):795-808. doi:10.1056/NEJMoa052771
Foster GD, Wyatt HR, Hill JO, et al. A randomized trial of a low-carbohydrate diet for obesity. N Engl J Med. 2003;348(21):2082-2090. doi:10.1056/NEJMoa022207
Fung TT, van Dam RM, Hankinson SE, Stampfer M, Willett WC, Hu FB. Low-carbohydrate diets and all-cause and cause-specific mortality: two cohort studies. Ann Intern Med. 2010;153(5):289-298. doi:10.7326/0003-4819-153-5-201009070-00003
Grivennikov SI, Greten FR, Karin M. Immunity, inflammation, and cancer. Cell. 2010;140(6):883-899. doi:10.1016/j.cell.2010.01.025
Ibáñez-Sanz G, Díez-Villanueva A, Vilorio-Marqués L, et al. Possible role of chondroitin sulphate and glucosamine for primary prevention of colorectal cancer. Results from the MCC-Spain study. Sci Rep. 2018;8(1):2040. Published 2018 Feb 1. doi:10.1038/s41598-018-20349-6
Janssens GE, Houtkooper RH. Identification of longevity compounds with minimized probabilities of side effects. Biogerontology. 2020;21(6):709-719. doi:10.1007/s10522-020-09887-7
Kantor ED, Lampe JW, Peters U, Shen DD, Vaughan TL, White E. Use of glucosamine and chondroitin supplements and risk of colorectal cancer. Cancer Causes Control. 2013;24(6):1137-1146. doi:10.1007/s10552-013-0192-2
Kantor ED, Lampe JW, Vaughan TL, Peters U, Rehm CD, White E. Association between use of specialty dietary supplements and C-reactive protein concentrations. Am J Epidemiol. 2012;176(11):1002-1013. doi:10.1093/aje/kws186
Kantor ED, Zhang X, Wu K, et al. Use of glucosamine and chondroitin supplements in relation to risk of colorectal cancer: Results from the Nurses' Health Study and Health Professionals follow-up study. Int J Cancer. 2016;139(9):1949-1957. doi:10.1002/ijc.30250
Largo R, Alvarez-Soria MA, Díez-Ortego I, et al. Glucosamine inhibits IL-1beta-induced NFkappaB activation in human osteoarthritic chondrocytes. Osteoarthritis Cartilage. 2003;11(4):290-298. doi:10.1016/s1063-4584(03)00028-1
Li ZH, Gao X, Chung VC, et al. Associations of regular glucosamine use with all-cause and cause-specific mortality: a large prospective cohort study. Ann Rheum Dis. 2020;79(6):829-836. doi:10.1136/annrheumdis-2020-217176
Ma H, Li X, Sun D, et al. Association of habitual glucosamine use with risk of cardiovascular disease: prospective study in UK Biobank. BMJ. 2019;365:l1628. Published 2019 May 14. doi:10.1136/bmj.l1628
Mansoor N, Vinknes KJ, Veierød MB, Retterstøl K. Effects of low-carbohydrate diets v. low-fat diets on body weight and cardiovascular risk factors: a meta-analysis of randomised controlled trials. Br J Nutr. 2016;115(3):466-479. doi:10.1017/S0007114515004699
Mantovani A, Allavena P, Sica A, Balkwill F. Cancer-related inflammation. Nature. 2008;454(7203):436-444. doi:10.1038/nature07205
Murphy RK, Ketzler L, Rice RD, Johnson SM, Doss MS, Jaccoma EH. Oral glucosamine supplements as a possible ocular hypertensive agent. JAMA Ophthalmol. 2013;131(7):955-957. doi:10.1001/jamaophthalmol.2013.227
Ronca F, Palmieri L, Panicucci P, Ronca G. Anti-inflammatory activity of chondroitin sulfate. Osteoarthritis Cartilage. 1998;6 Suppl A:14-21. doi:10.1016/s1063-4584(98)80006-x
Shmagel A, Demmer R, Knights D, et al. The effects of glucosamine and chondroitin sulfate on gut microbial composition: a systematic review of evidence from animal and human studies. Nutrients 2019;11:294.
Weimer S, Priebs J, Kuhlow D, et al. D-Glucosamine supplementation extends life span of nematodes and of ageing mice. Nat Commun. 2014;5:3563. Published 2014 Apr 8. doi:10.1038/ncomms4563
Wilkens P, Scheel IB, Grundnes O, Hellum C, Storheim K. Effect of glucosamine on pain-related disability in patients with chronic low back pain and degenerative lumbar osteoarthritis: a randomized controlled trial. JAMA. 2010;304(1):45-52. doi:10.1001/jama.2010.893
Willerson JT, Ridker PM. Inflammation as a cardiovascular risk factor. Circulation. 2004;109(21 Suppl 1):II2-II10. doi:10.1161/01.CIR.0000129535.04194.38