How a Pro-Inflammatory Diet Promotes Frailty and Poor Physical Function in Older Adults — and What to Eat Instead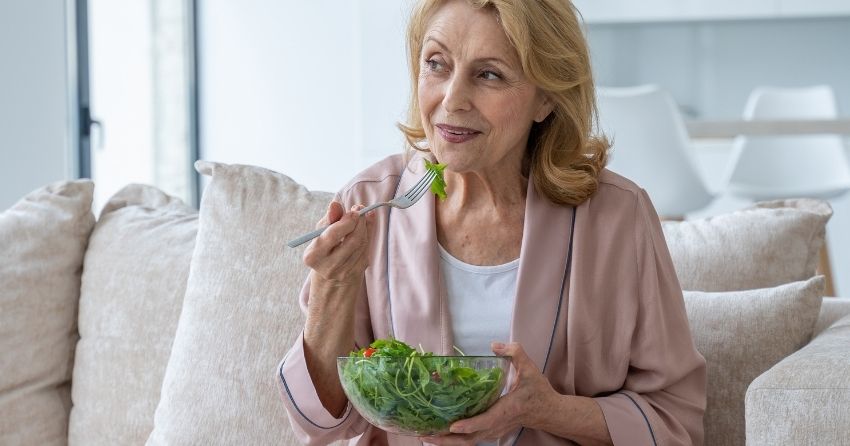 Just about every age-related condition of poor health stems in part from excess inflammation — so much so that the term 'inflamm-aging' has been coined to describe this state. One such age-related condition is frailty, characterized by impaired physical function, strength, muscle mass, and movement. Affecting one in six older adults, frailty markedly increases the risk of dangerous falls, hospitalizations, and mortality.  
Although frailty is complex, inflammation may be a key contributor to its development. While other studies have looked at how specific foods or nutrients impact frailty or the inflammatory response, they don't typically assess the diet as a whole — which is where the dietary inflammatory index (DII) comes in. Using a novel algorithm, the DII reflects the overall inflammatory nature of one's diet. In a recent study published in the American Journal of Clinical Nutrition, Millar and colleagues use the DII to assess how pro-inflammatory dietary patterns play a role in frailty — and how the least inflammatory diets fight this decline in physical function. 
How Inflammation Instigates Impaired Physical Function 
The costs of frailty are not insignificant, with just one year of frailty-related care for one person costing up to $30,000 — not to mention the costs to quality of life and independence. Therefore, understanding the factors that play a role in its development has become a significant public health concern.  
Inflammation is thought to be one such factor, which an increase in oxidative stress can aggravate — excessive levels of compounds called reactive oxygen species that damage cells when we don't have adequate antioxidants around to neutralize them. High levels of oxidative stress can trigger pro-inflammatory pathways, compounding inflammation. 
While the inflammatory response is an essential component of healing and repair — without it, a simple paper cut could turn into a festering infection — there is a difference between acute and chronic inflammation. Acute inflammation is the localized and short-lived type that saves us from those otherwise-deadly paper cuts. 
In contrast, chronic inflammation is systemic and long-term, causing a steady flow of pro-inflammatory immune cells and chemical messengers called cytokines that contribute to poor health and disease development. Too many of these pro-inflammatory cytokines can cause muscle degradation, a loss of motor function, and reduced physical activity, all of which contribute to frailty. 
Pro-Inflammatory Diet Linked to Frailty Risk
In this 12-year study, over 1,700 adults underwent assessments for frailty, characterized by self-reported exhaustion, low grip strength, slow gait speed, unintentional weight loss, and low physical activity levels. Millar and colleagues also looked at their diets, with the DII assigning scores ranging from -8 (the least inflammatory diet, including high-fiber and antioxidant-rich foods) to +8 (the most inflammatory, with foods high in refined carbohydrates, sugar, and processed red meat). 
Over the 12 years, 13% of the study participants developed frailty — and inflammatory diets were strongly related to it. Each one-point increase in the DII score (meaning more inflammatory) was associated with a 16% increased odds of frailty. Plus, those in the top quarter of most inflammatory diets were more than twice as likely to develop frailty during this period compared to those in the bottom quarter of pro-inflammatory foods. 
Fighting Frailty with Food
The researchers conclude that a pro-inflammatory diet based on foods high in sugar, refined carbohydrates, and processed red meat is significantly linked to frailty onset — at least in this population of relatively healthy middle-to-older-aged adults. 
Conversely, a diet that supports a healthier inflammatory response may also lend itself to the fight against frailty. These foods are rich in antioxidant compounds like polyphenols and flavonoids, fiber, vitamins, and minerals. Some examples include dark leafy greens, orange or yellow vegetables, berries, olive oil, turmeric, ginger, oily fish like salmon, coffee, tea, and moderate amounts of red wine. 
As Dr. Millar concludes, "The study indicated that regularly eating foods that contain nutrients such as dietary fiber and dietary antioxidants (such as vitamin C, vitamin E, and flavonoids) may prevent older adults from becoming frail. While more studies are necessary, guidelines based on an [less] inflammatory diet may help reduce the percentage of older adults who may develop frailty and related conditions such as falls and fractures, which can improve their quality of life."
References: 
Millar CL, Dufour AB, Shivappa N, et al. A pro-inflammatory diet is associated with increased odds of frailty after 12-year follow-up in a cohort of adults. Am J Clin Nutr. 2021;nqab317. doi:10.1093/ajcn/nqab317
Mondor L, Maxwell CJ, Hogan DB, et al. The Incremental Health Care Costs of Frailty Among Home Care Recipients in Ontario, Canada: A Cohort Study. Med Care. 2019;57(7):512-520. doi:10.1097/MLR.0000000000001139