Top 5 Health Benefits of Aloe Vera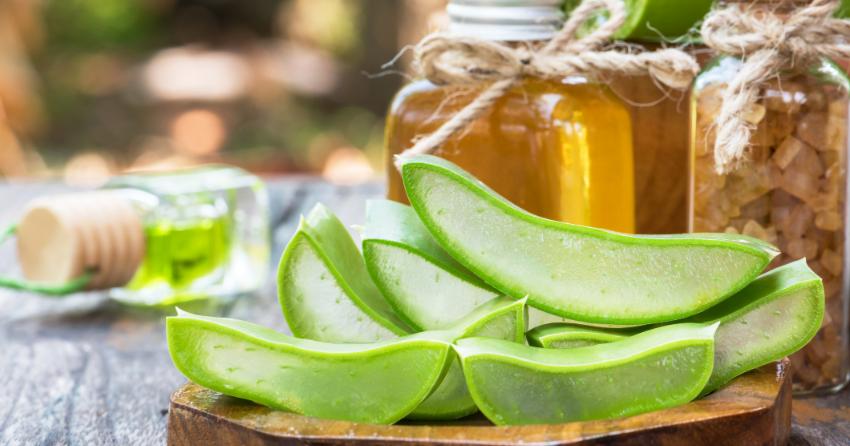 Although you may be most familiar with aloe vera after a long day at the beach, this plant has so much more to offer than just being a sunburn-soother. Considering it has been called everything from the "wonder plant" to the "first aid plant" and even the "plant of immortality" in various cultures throughout its long history of use, aloe vera is a healthy plant to use both topically and orally for a variety of ailments.  
Aloe Vera: The Nutrition Science 
Aloe vera is a succulent plant with a gel-like substance inside its leaves that has been used widely across several industries, including food, cosmetics, and pharmaceuticals. Although there are over 400 species of the aloe plant, Aloe barbadensis Miller is the variety most commonly used for therapeutic practices.
Many of the benefits of aloe vera are attributed to its unusual makeup of polysaccharides, which are long chains of carbohydrates that create its gel-like consistency. Although there are dozens of polysaccharides in aloe, the most commonly studied for their health benefits are glucomannan, hemicellulose, lignins, and the mucopolysaccharide group. 
Besides polysaccharides, aloe vera also contains various enzymes and polyphenolic compounds that function as antioxidants, including flavonoids and terpenoids. Nutritionally, aloe vera has several vitamins, minerals, and amino acids. 
Although the amounts are small, aloe contains vitamins A (in its provitamin form beta-carotene), C, and E, and minerals calcium, chromium, selenium, magnesium, manganese, potassium, and zinc. 
Aloe vera can be used topically, as a gel or cream, or ingested in the form of aloe vera juice or capsules. You can also consume the gel directly from the aloe vera plant. Look for fresh aloe leaves at a natural or health food store and open them up at home to extract the gel. 
Top 5 Benefits of Aloe Vera
1. Skin Health
The most commonly recognized use of aloe vera is for relieving sunburned skin, but it also has been studied for its treatment of other skin conditions, including wounds, more severe burns, pressure ulcers, and other inflammatory skin issues. 
In addition to soothing pain after time in the sun through its cooling properties, aloe vera reduces the damaging effects of UV exposure through the protein metallothionein. After applying aloe vera topically, metallothionein is produced, which functions as an antioxidant to scavenge for damaging free radicals created after excessive UV exposure.
As described in a September 2018 study published in Wounds, aloe vera heals the skin through several mechanisms, including an increase in the growth and activity of both fibroblasts (connective tissue cells that produce collagen) and keratinocytes (the primary cell type making up the skin's epidermis). 
An upregulation of fibroblast activity leads to improved collagen production and secretion; collagen is the most abundant protein in the body and is crucial for skin integrity. 
Other skin-healing mechanisms of aloe vera include its antibacterial actions and its ability to retain skin moisture. Lastly, aloe vera has been shown to block thromboxane, which is an inhibitor of wound healing. 
2. Supports Digestion and Gut Health 
Aloe vera has been known for its laxative-inducing effects for thousands of years. Although consuming an excess of aloe vera can cause undesirable laxative effects, taken in smaller doses, it can provide relief from constipation. 
The components of aloe vera that help with elimination are aloin and aloe-emodin, from the anthraquinone family, and barbaloin, which is a glucose-derived molecule. These compounds increase intestinal motility and pull extra water into the intestines, which may help with constipation. 
In a 2018 systematic review published in the Journal of Neurogastroenterology and Motility, patients who consumed aloe vera (in juice or capsules) had improvements in bowel elimination with no adverse effects.  
Aloe vera has also been studied for its beneficial effects on the gut microbiome, primarily due to its fiber content. Research published in Molecules suggests adding aloe vera gel to a cellular model led to increased production of short-chain fatty acids, which are important for maintaining a high variety and quantity of healthy gut bacteria. 
3. Lowers Blood Sugar
Aloe vera has been shown to improve elevated blood sugar, insulin resistance, and hemoglobin A1c (HgbA1c), which is an average of blood sugar over the past three months. 
In a July 2016 systematic review published in Nutrients, an analysis of five trials found that supplementation with aloe vera significantly reduced fasting blood glucose compared to a placebo, with a mean reduction of 30.05 mg/dL. 
Aloe vera is thought to exhibit hypoglycemic effects through its polysaccharides, which are fibrous compounds that can enhance glucose transport and uptake to reduce glucose levels in the blood. 
4. Improves Oral Health
Due to its anti-inflammatory and antibacterial properties, aloe vera may improve various aspects of oral health, including bleeding and inflamed gums. 
In a randomized controlled trial, those who rinsed with an aloe vera solution saw similar improvements in plaque accumulation and gum inflammation compared to those using chlorhexidine rinse. This indicates that aloe vera could be an easily accessible herbal remedy that is as effective as the commonly prescribed antiseptic mouthwash. 
Aloe vera has also been shown to fight against the common pathogens that can cause oral diseases and infections. In a cellular study, samples of plaque were taken from the mouths of patients with oral inflammation. After being cultured with aloe vera gel, the growth of four common oral pathogens was significantly inhibited and comparable to the results seen with prescription antibiotics.
5. May Support Brain Health and Cognition
Several studies with animals have shown that aloe vera is linked to improved cognition and various markers of brain health. 
One of the studies, published in Biomedicine and Pharmacotherapy in December 2017, induced metabolic dysfunction in rats, which led to various detrimental health markers, including decreased memory and locomotor activity, mood disorders, and increased neuronal loss. Supplementation with aloe vera gel reversed all of these symptoms.
In a similar study in the journal Nutritional Neuroscience, mice who received aloe vera had improvements in tests of learning and memory, as well as reductions in depressive symptoms. 
Although these results are promising for aloe vera's effects on cognition and brain health, more research is needed, especially in humans. 
Are There Downsides to Aloe Vera? 
Although minimal, there are some potential adverse effects to consuming or using aloe vera. When taken orally, excess amounts may cause gastrointestinal upset. This is more likely to occur if you consume the aloe latex from fresh aloe leaves, which is the yellowish substance right under the surface. It's recommended to avoid the aloe latex part of the plant.
Topically, aloe vera can cause itching, redness, burning, or stinging sensations in those with sensitive skin. An aloe vera gel containing magnesium lactate can prevent this itching and irritation caused by an increase in histamine production. 
Lastly, those who take medications for blood sugar control should consult their doctor due to aloe vera's hypoglycemic effects. 
Key Takeaways:
Aloe vera is a healing plant that has been used therapeutically for

centuries

; it can be consumed in gel, juice, or capsule form, or applied topically. 

The most studied benefits of aloe vera include its ability to heal the skin, including burns and wounds, and improve digestion, especially constipation. 

Other benefits of aloe vera include lowering blood sugar, improving oral health through its antibacterial properties, and possibly boosting brain health.
References:
Halder S, Mehta AK, Mediratta PK. Aloe vera improves memory in mice. Nutr Neurosci. 2013;16(6):250‐254. doi:10.1179/1476830512Y.0000000050
Hamman JH. Composition and applications of Aloe vera leaf gel. Molecules. 2008;13(8):1599‐1616. Published 2008 Aug 8. doi:10.3390/molecules13081599
Hashemi SA, Madani SA, Abediankenari S. The Review on Properties of Aloe Vera in Healing of Cutaneous Wounds. Biomed Res Int. 2015;2015:714216. doi:10.1155/2015/714216
Hęś M, Dziedzic K, Górecka D, Jędrusek-Golińska A, Gujska E. Aloe vera (L.) Webb.: Natural Sources of Antioxidants - A Review. Plant Foods Hum Nutr. 2019;74(3):255‐265. doi:10.1007/s11130-019-00747-5
Hong SW, Chun J, Park S, Lee HJ, Im JP, Kim JS. Aloe vera Is Effective and Safe in Short-term Treatment: A Systematic Review and Meta-analysis. J Neurogastroenterol Motil. 2018;24(4):528‐535. doi:10.5056/jnm18077
Jain S, Rathod N, Nagi R, et al. Antibacterial Effect of Aloe Vera Gel against Oral Pathogens: An In-vitro Study. J Clin Diagn Res. 2016;10(11):ZC41‐ZC44. doi:10.7860/JCDR/2016/21450.8890
Tabatabaei SRF, Ghaderi S, Bahrami-Tapehebur M, Farbood Y, Rashno M. Aloe vera gel improves behavioral deficits and oxidative status in streptozotocin-induced rats. Biomed Pharmacother. 2017;96:279‐290. doi:10.1016/j.biopha.2017.09.146
Teplicki E, Ma Q, Castillo DE, et al. The Effects of Aloe vera on Wound Healing in Cell Proliferation, Migration, and Viability. Wounds. 2018;30(9):263‐268.
Tornero-Martínez A, Cruz-Ortiz R, Jaramillo-Flores ME, et al. In vitro Fermentation of Polysaccharides from Aloe vera and the Evaluation of Antioxidant Activity and Production of Short Chain Fatty Acids. Molecules. 2019;24(19):3605. Published 2019 Oct 7. doi:10.3390/molecules24193605
Vangipuram S, Jha A, Bhashyam M. Comparative efficacy of aloe vera mouthwash and chlorhexidine on periodontal health: A randomized controlled trial. J Clin Exp Dent. 2016;8(4):e442‐e447. Published 2016 Oct 1. doi:10.4317/jced.53033
Zhang Y, Liu W, Liu D, Zhao T, Tian H. Efficacy of Aloe Vera Supplementation on Early Non-Treated Patients: A Systematic Review and Meta-Analysis of Randomized Controlled Trials. Nutrients. 2016;8(7):388. Published 2016 Jun 23. doi:10.3390/nu8070388