Spring: When Everything Turns Green, Including Smoothies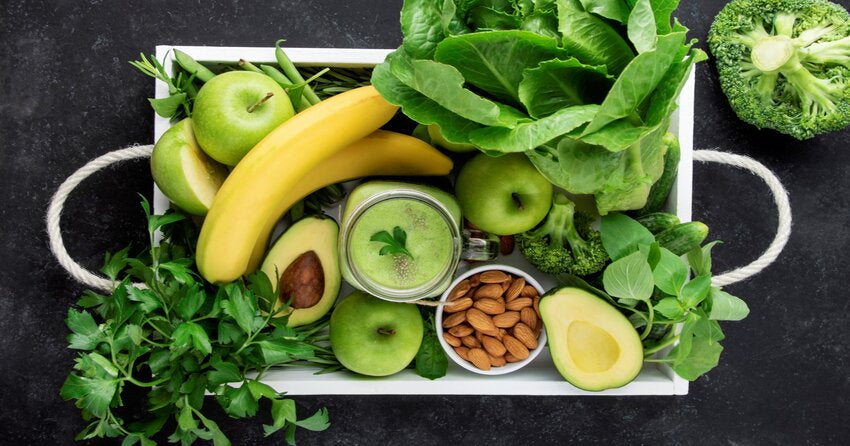 Spring has finally arrived, bringing with it an opportunity for vibrant health. During this time of nature's renewal, would you like to learn about a fun and healthy way to detox, re-energize and renew your own body? If so, green smoothies may be just what you're looking for. They're delicious, versatile, and packed with health benefits.
If you've never tried a green smoothie, you're in for a treat. Discover how something that tastes so good can still be so healthy. And find out how easy it is to fit them into your life and make them part of your regular wellness routine.
What Makes Green Smoothies So Special?
Green smoothies are a quick, convenient, and tasty way of including a variety of healthy, immune-boosting foods like fruits and vegetables into your diet. Nutrient-rich and packed with vitamins, antioxidants and minerals, these smoothies are filled with fiber and easily digested.
Including fiber in your diet daily is super important because it sweeps waste and toxins from the digestive tract, helps to support regular elimination, and keeps you full between meals. A 2018 article in Mayo Clinic noted that a high fiber diet may diminish the risk of heart disease, diabetes and obesity. According to the authors, "Women should try to eat at least 21 to 25 grams of fiber a day, while men should aim for 30 to 38 grams a day." Diets abundant in fruits and vegetables can reduce the risk of heart disease and stroke, lower blood pressure, and inhibit certain types of cancer.
Enjoying leafy greens and fruits can help keep you satiated and may even result in shedding unwanted pounds because the natural sugar in fruit can help curb your cravings for sweets and processed foods.
Common Green Smoothies Ingredients and Why They're So Healthy
Leafy Greens — Dark leafy greens such as spinach, kale, Swiss chard, and beet greens are high in vitamins, minerals, and antioxidants. Rich in potassium, folate, magnesium and calcium, leafy greens are also high in fiber. All greens contain their own unique plant alkaloids, and we need a variety, so it's important to rotate the greens you use in your smoothie recipes.
Bananas —Bananas are rich in potassium, a critical mineral for heart health. Potassium helps balance excess sodium levels and guard against high blood pressure. Bananas are high in fiber and contain magnesium, vitamin C and vitamin B6 (good for brain health). According to one analysis by the USDA, bananas contain 12.23 grams of sugar. That may initially cause concern, especially for people with diabetes. However, unripened bananas are filled with "resistant starch" that is slowly absorbed in the small intestine without causing spikes in blood sugar. Additionally, bananas are healing and soothing to the intestinal tract.
Flaxseed/chia seeds — Ground chia and flaxseeds are known as "superfoods." These tiny seeds are packed with fiber, protein and Omega-3 and Omega- 6 (heart healthy) fatty acids.
Fruits and berries — Fruit has been labeled nature's perfect food. It's low in sodium and loaded with vitamins and minerals, antioxidants, fiber, and folate. Fruit supplies quick energy minus the crash you may experience from consuming processed foods. Eating fruit daily helps reduce the risk of many diseases.
Ingredients That Supply Additional Immune Support
These days we're all looking for ways to boost our immune system. Stress, poor diet, and lack of sleep are all factors that can hinder how well we fight off diseases. We need the full force of our immune system to combat all the daily threats we face.
Although green smoothies are already good for supporting the immune system, you can also add "power shots" of immune-boosting extras to your smoothies, such as fresh ginger, green tea and citrus fruits high in vitamin C. Another option is to sprinkle on immunity-boosting herbs and spices like cinnamon, turmeric, ginger, and garlic. These herbs and spices can also be crushed and blended right into the smoothie.
4 Easy Ways to Fit Green Smoothies into Your Day — Plus Delicious Smoothie Recipes
1. As A Meal Replacement
With the addition of a high-quality protein powder, green smoothies will provide you with adequate calories and fuel to replace any meal of the day. You can start or end your day with a smoothie. Here's a quick and easy breakfast smoothie recipe:
Banana Berry Smoothie
2 handfuls baby spinach
1 cup water
2 tablespoons ground flaxseeds or chia seeds
1 medium banana
1 cup frozen blueberries
1 scoop protein powder such as ProHealth's ImmunPlex™ Undenatured Whey Protein
Optional: Stevia sweetener
In a high-speed blender, combine spinach and water. Blend well until greens dissolve. Add remaining ingredients and continue blending until creamy. Add more liquid for desired consistency. Serve immediately.
Note:  You can make a double batch and store the remainder in an airtight mason jar for another meal or snack later in the day.
2. Fueling on the go
Pack a smoothie as part of a healthy work lunch. Sip on a smoothie while you're out running errands or store some in your cooler for outings and picnics. Green smoothies are a healthy snack the whole family can enjoy. If you're out exercising and need to rehydrate and replace lost electrolytes, a green smoothie is a quick way to do that, too. They travel well as long as they are kept chilled.
3. As a Strategic Appetizer
When dining out or attending a party or outing anywhere healthy food choices may be limited, have a smoothie before leaving home. You'll take the edge off your hunger and supply some quick nutrients and hydration. The fiber from flaxseed and fruit will help keep you full and less likely to make unhealthy choices.
You can still celebrate your evening out with some of your favorite foods knowing you started with a strategic appetizer. You might even consider hosting a happy hour and serving smoothies in place of alcoholic drinks.
4. As a Dessert Replacement
Drink your dessert instead of indulging in high-calorie cakes, pies, and cookies. Here's a smoothie to enjoy in place of dessert or any time you need a quick pick me up. The cherries in this recipe are packed with antioxidants, potassium, and anti-inflammatory properties. The avocado provides high fiber, vitamins, minerals, and Omega-3 fatty acids.
Cherry Delight
1 medium banana
1 cup frozen, pitted cherries
2 handfuls mixed greens of your choice
2 tablespoons ground flaxseeds or chia seeds
1/2 ripe medium avocado
1 1/2 cups unsweetened nut milk
1 scoop chocolate protein powder such as RAW Organic Protein-Chocolate Cacao (sold by Prohealth)
Optional: Stevia sweetener
In a high-speed blender, combine mixed greens and nut milk. Blend well until greens dissolve. Add remaining ingredients and continue blending until creamy. Add more liquid for desired consistency.
Hopefully, this has given you some guidance and new ideas on how to enjoy green smoothies in a variety of different ways. Green smoothies are a simple way to maintain a healthy lifestyle, detox, and thrive at any age.
References:
Chart of high-fiber foods. Mayo Clinic. https://www.mayoclinic.org/healthy-lifestyle/nutrition-and-healthy-eating/in-depth/high-fiber-foods/art-20050948. November 17, 2018
Food Data Central. USDA. https://fdc.nal.usda.gov/fdc-app.html#