ProHealth Longevity takes action against adulterated NMN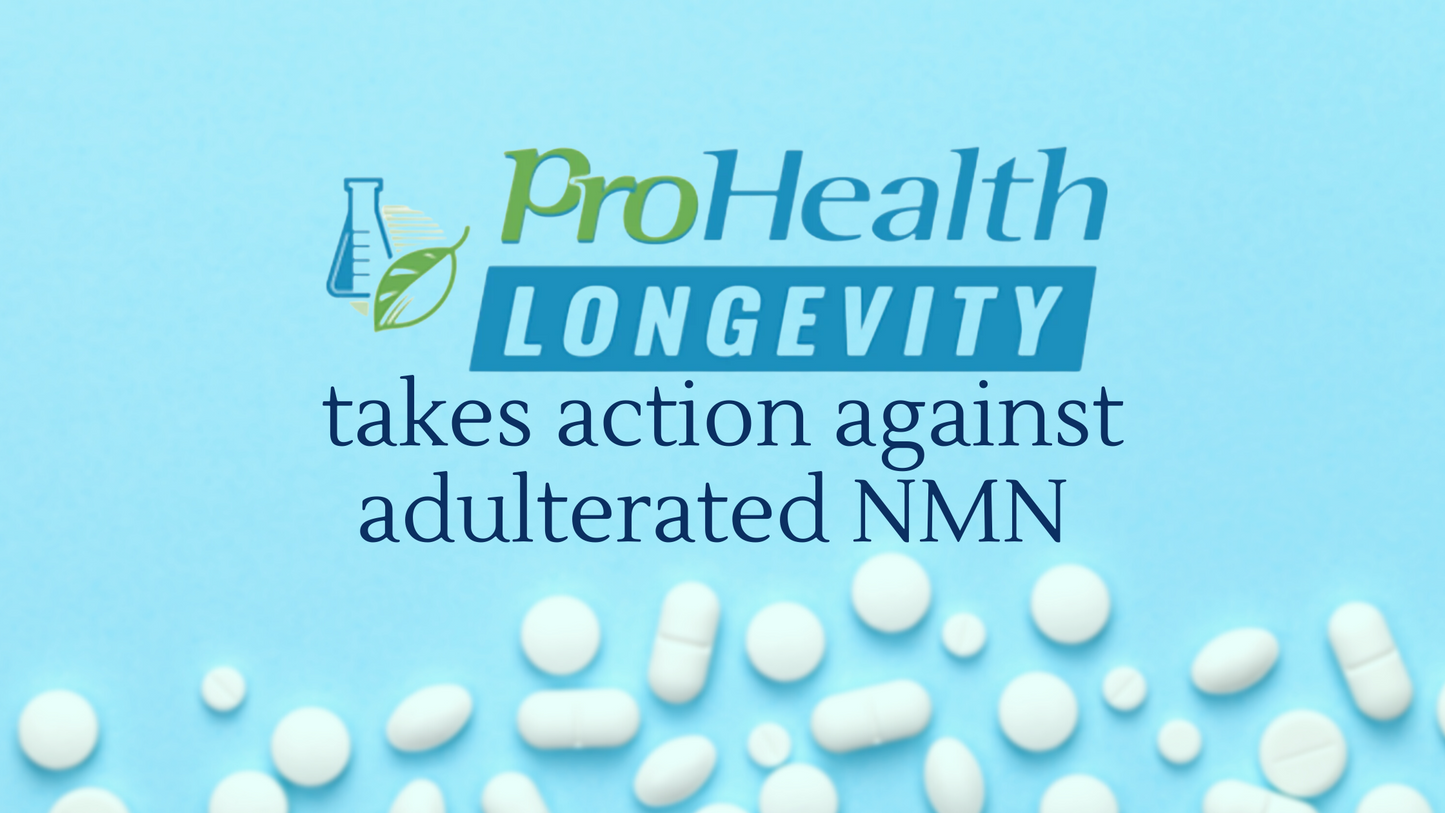 Disreputable companies are flooding the market with adulterated and fake NMN products. ProHealth Longevity wants to protect you from what is going on. Our first step was to shore up the integrity of our supply chain and formalize our relationship with Effepharm, manufacturers of Uthever, the only soon-to-be GRAS (Generally Recognized as Safe) NMN. 
To raise awareness, ProHealth Longevity is talking with the media about this alarming issue. Our CEO Nancy Dayton told Nutrition Insight, "Our partnership with Effepharm is designed to build trust in the NMN product by consistently producing pure and ethically resourced material … People take NMN to improve health and longevity. When companies misrepresent NMN ingredients, they deprive consumers of the longevity benefits and erode trust in the industry and the profound longevity research."
Dayton explained to Nutraceuticals World that there is surging interest in NMN in part because emerging research suggests that it may achieve health benefits which counteract some concerns associated with the aging process.
When a large number of companies suddenly appeared on Amazon selling NMN, Dayton says she was immediately concerned. "Because we are on the front line, we knew the spike in the number of retail suppliers and products wasn't logical." So, they investigated further.  
"Websites and Amazon accounts have been hacked, including our own. Companies are falsifying certificates of authenticity and other documentation," Dayton said, worried that consumers will have difficulty discerning the real, high-quality NMN from the fake, low-purity ingredients. 
According to information released by Effepharm, more than half of the NMN products the company tested contained zero NMN – some products had less than 80% purity. There were suppliers selling ordinary nicotinamide (a low-cost form of vitamin B3) as NMN. "Because this is a 'feel-the-difference' ingredient, fraudulent NMN can ruin the entire category," Dayton said in a WholeFoods Magazine article. 
The partnership with Effepharm will ensure that you are getting stable, authentic, pure and safe NMN. 
ProHealth Longevity is celebrating 33 consecutive years as a Better Business Bureau A+ rated company known for providing the highest quality supplements. Effepharm is a leading global biotechnology manufacturer serving pharmaceutical, nutrition and healthcare industries, to provide our customers with the world's best NMN.