NMN Landing Page - 15g
ACT NOW AND SAVE $10 ON YOUR ORDER OF $100 OR MORE + FREE 2-DAY U.S. SHIPPING!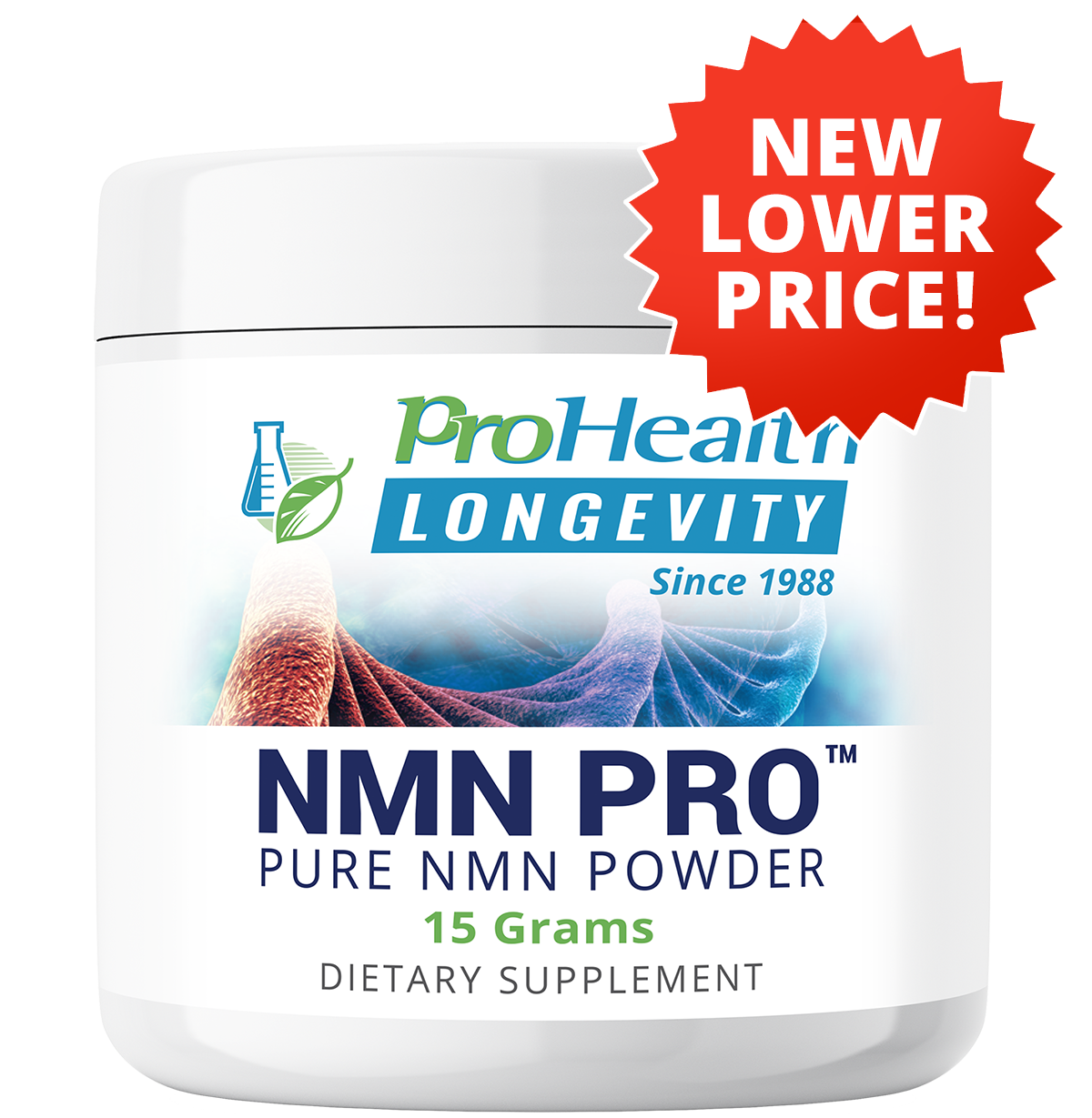 The World's Most Powerful Anti-Aging Molecule Is Finally Within Your Reach
Imagine being able to slow down and even reverse the aging process. For centuries mankind has been looking for the key to living longer. Now scientists from Harvard, MIT and other major universities think they may have found that key in a powerful molecule called NMN (nicotinamide mononucleotide).
WATCH THE VIDEO


REPLENISH YOUR NAD+ LEVELS NOW WITH NMN!
NMN works by replenishing diminished NAD+ levels. NAD+ is found in every single cell in the body and is absolutely essential to life. Without NAD+, you cannot live. However, NAD+ levels naturally fall at a rate of about 1% per year, which means that by age 50, you have about half of the NAD+ you had in your youth. And if your NAD+ is not replenished, by the time you're 80, you'll only have about 20% of the NAD+ you started with.
NMN increases NAD+ which supports:

WHAT YOU NEED TO KNOW ABOUT THIS "MIRACLE MOLECULE"
Now for the first time in history, the possibility of extending your life is within reach. NMN, the crucial molecule that has enabled longevity researchers to routinely increase the lifespan of laboratory animals, is finally available for human supplementation. Consider the following:
Researchers have found that NMN helps boost energy metabolism, improves mitochondrial function, reverses vascular aging, protects brain cells, improves insulin sensitivity, repairs damaged DNA and extends lifespan in aging animals from 10% to 40%.
A 2020 study found that low-dose supplementation with NMN was able to restore fertility in aging female mice.
NAD+ directly activates sirtuins, the proteins in your body that regulate cellular health, inflammation and gene repair.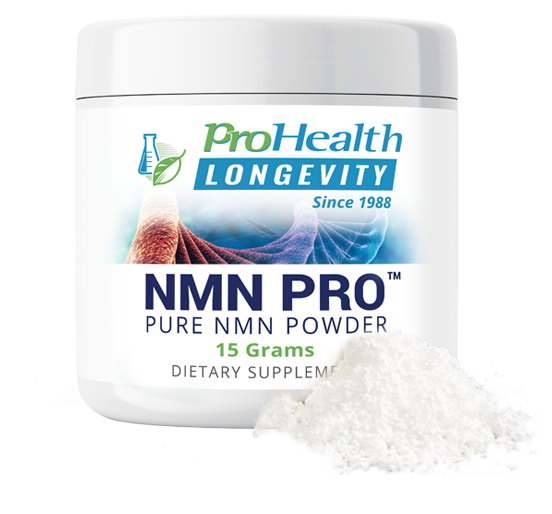 NAD+ enables energy from the foods you eat to be transferred to the cells throughout your body, promoting youthful vitality.
Scientists have found that NAD+ also helps to "turn off" the genes that accelerate the aging process.
NAD+ powers over 450 enzymes throughout the body. Without NAD+, scientists say a person cannot live more than 60 seconds.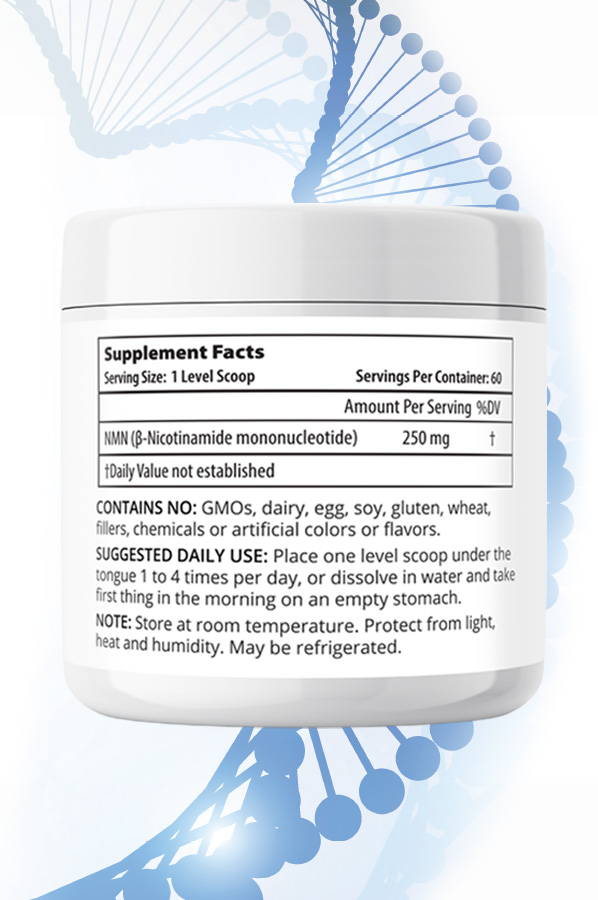 WHY BUY FROM PROHEALTH LONGEVITY?
ProHealth Longevity is proud to offer you the highest quality NMN available anywhere. We go the extra mile to ensure that our products are absolutely pure and free of any chemical solvents or heavy metals. In a market that is flooded with questionable NMN products, ProHealth Longevity's NMN Pro Powder truly stands out in the crowd.
ProHealth uses only stabilized, pharmaceutical grade NMN, the purest NMN in the world.

Our products are manufactured in a climate-controlled FDA registered facility in the United States.

We use a solvent-free biocatalytic process that yields NMN of unparalleled purity.

NMN Pro is triple tested by independent third-party labs. We test at each stage of the production process to ensure that the NMN you receive is absolutely pure.
ProHealth has been providing high-quality supplements since 1988. We stand on our long history and impeccable reputation for quality, purity and potency. Some NMN products on the market contain little or no NMN, and many contain high levels of lead, mercury and arsenic. So how can you be sure you're getting pure, high-quality NMN? By going with a company you know you can trust, a company with a long history of providing only the highest quality supplements available. ProHealth has been a Better Business Bureau A+ rated company for 32 years — longer than the majority of all other NMN companies combined. We stand behind our products and guarantee you won't find a better, purer NMN anywhere.

I have tried a few brands, but none I have determined
as pure as ProHealth. They also post their lab letter for all to see.
I will be a repeat customer.
– Chris B.
PROHEALTH'S TRIPLE-TESTING PROCESS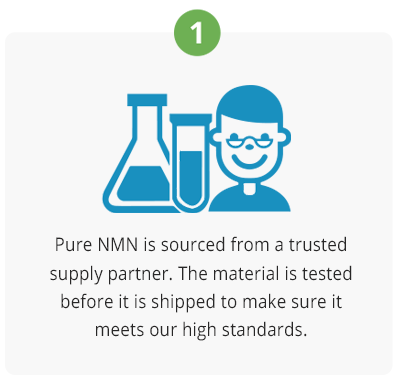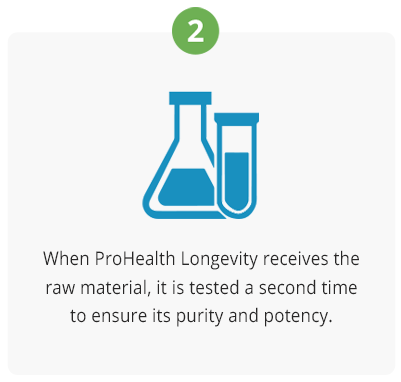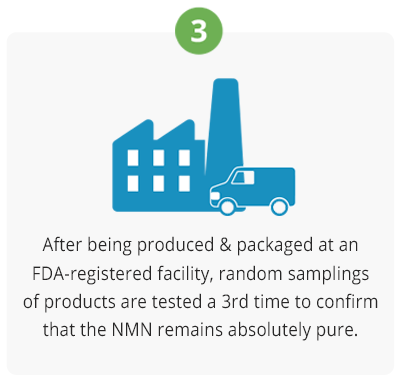 This was an independent, unsolicited evaluation. Dr. Stanfield has no affiliation with ProHealth or ProHealth Longevity, financial or otherwise, nor are there any other conflicts of interest.
MEDICAL DOCTOR RATES
PROHEALTH'S NMN PRO #1
Dr. Brad Stanfield, a medical doctor trained in New Zealand, evaluated the top six brands of NMN and chose ProHealth's NMN Pro as the best NMN available.